Miami Beat III: Illusions by Frederica P. Burden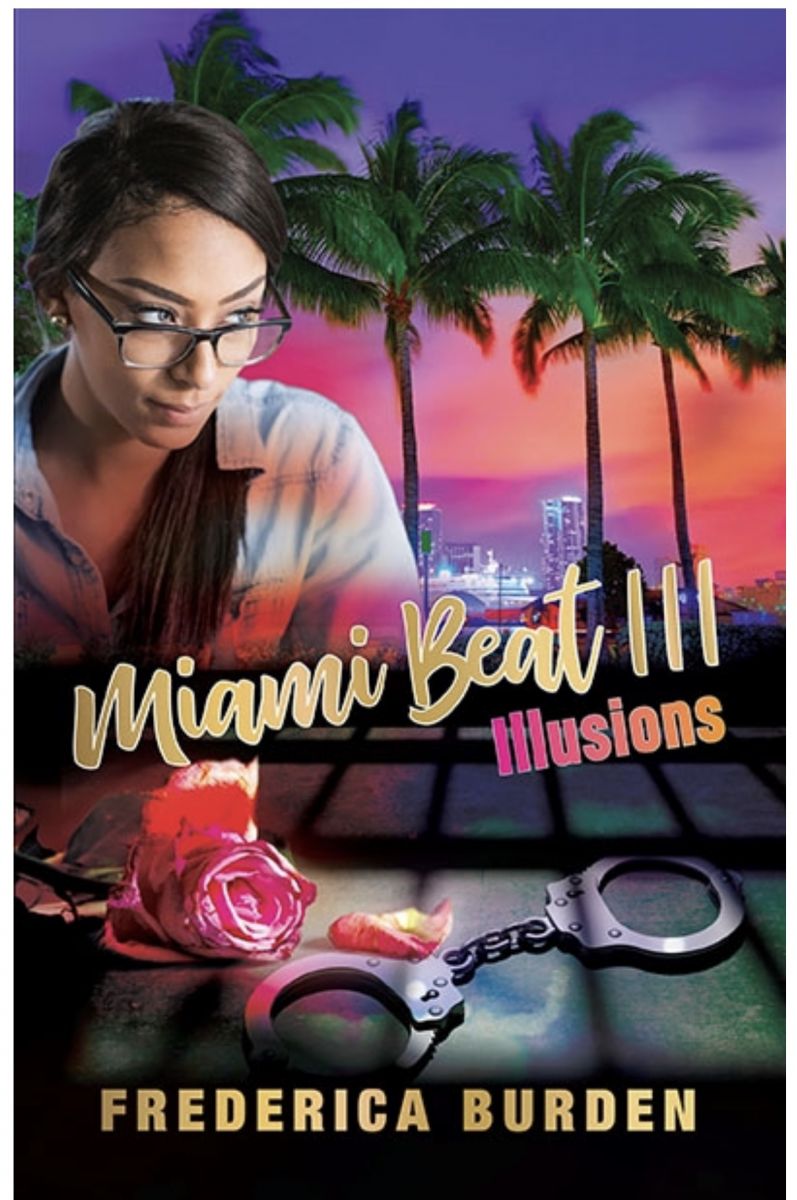 Mirror, mirror on the wall…someone's shooting star is bound to fall. Will one go down, or will they all?
Sidney Stevens has a front row seat to the destruction of everyone she loves. Her family is poised to drive her absolutely crazy as she runs from one person to the other, extinguishing fires. Sidney faces the ultimate betrayal when her brother exposes the love of her life and his heinous crimes. Now she is forced to decide between what her heart feels and what her mind knows to be true.

Chief of Police Marcus J. Mystic has his hands full with a maniacal wife who is hot and heavy on his heels. Vondra has escaped the North Florida Mental Hospital with a plan and a purpose. If the authorities don't capture her soon, they will all be doomed. Mystic also grapples with his love affair with Sidney. Their once sizzling union has now been doused with ice-cold reality due to accusations levied against Mystic by Randy Jr. Sadly, Mystic's list of critics is growing longer by the minute. It's a race against time to see who gets to him first.

Can Mystic convince Sidney of the truth before it's too late?

Locked away in prison, Randy Jr. faces his own version of hell as he stares down a hefty sentence for murder. He is desperate to get out of prison and settle the score with his enemies. Will prison be the distraction that he needs to get his life together or just another place for his sins to incubate?

Spencer thought that he was off the hook for Linda's murder, but now he finds himself in a battle for his own life. Spencer has to prove to everyone that he isn't the killer, but he isn't entirely convinced of his own innocence. Luckily, he has Artie in his corner.

Artie Garcia has been an integral person in everyone's life, but deep within the recesses of his heart, he holds secrets that threaten to destroy him. As he vies for Sidney's affections and aspires for a higher position on the force, Artie tests the bounds of friendship and loyalty to see his goals manifest. The games that he plays will put his life in jeopardy. Only Artie can determine if it's worth the risk.

Join the characters of Miami Beat III: Illusions as they return for another action-packed journey guaranteed to have you questioning whether what you see is the truth or merely an illusion.


Miami Beat: The Secret Society by Frederica P. Burden
Listen to a chilling audio excerpt from Miami Beat: http://www.audioacrobat.com/note/CTgGTxsX

Miami Beat II: Dilemmas by Frederica P. Burden
Listen to a dramatic reading from Miami Beat II: Dilemmas: https://www.audioacrobat.com/note/CCmvBHQX

Miami Beat III: Illusions by Frederica P. Burden
Listen to a dramatic reading from Miami Beat III: Illusions: http://www.audioacrobat.com/note/CwmNTyfX
---


Miami Beat III – Chapter 11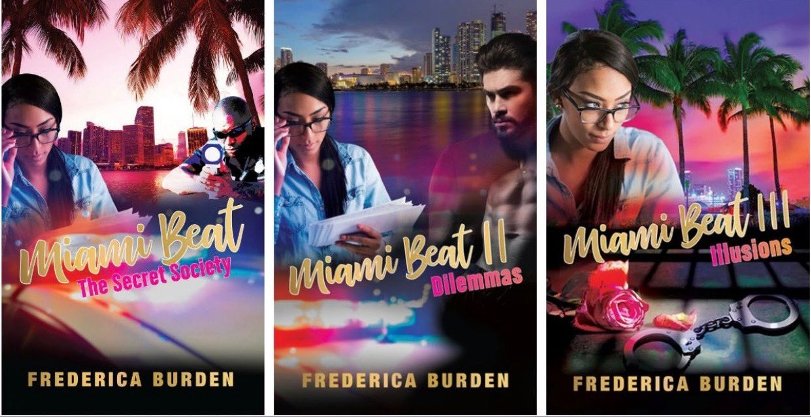 Marcus Mystic appraised his reflection in the mirror with a smile. His bright green eyes sparkled with charm and charisma. His skin was the color of café au lait, and his smile could make any woman melt. For years he got by on his looks and his charm. He did climb through the ranks of the Police Department rather quickly, based on his experience and knowledge which he so prominently displayed, daily.
He thought about Sidney every minute of the day when he was apart from her. It bothered Mystic that he couldn't get through to Sidney. He loved her desperately, but he also knew that he couldn't say but so much. Although he cared about Sidney, he also cared about his job and his lifestyle that he worked so hard for.
Mystic hated keeping secrets, and he despised scandal. Currently, he was involved in a huge scandal. He still had Killa Dre's hand in his possession. He knew that the heat would come down on him hard if someone found out that he knew who was behind the slaying of Killa Dre.
Killa Dre's death was a great benefit to the community because the drugs he sold and controlled in the neighborhood was to their detriment. Mystic knew that Killa Dre's murder wouldn't wholly eliminate drug abuse in the community, but it would slow it down considerably until a new gangster took over.
Mystic didn't miss Killa Dre, but he knew that someone would. He knew personally that a few officers were on Killa Dre's payroll. He surmised that they would try to investigate the death of Killa Dre to avenge him.
Killa Dre's criminal empire kept food on the table for some of the most unlikely individuals. It unnerved Mystic that he had to actually cover for Randy Jr., but Mystic couldn't think of another way to fix the situation with the love of his life and winning her trust back.
Mystic couldn't win.
Sidney was pissed with him, and he didn't know how to get her to believe in him again. Mystic considered that if he turned in Killa Dre's hand and affirmed where he located the hand, Randy Jr. wouldn't stand a chance. He would never be let out of prison with an additional murder charge on his record.
Mystic considered the idea. Randy Jr. hated him. He knew a few things that Sidney didn't. Mystic wondered if he let Randy Jr. rot in prison how long it would take before Sidney forgot about the accusations he hurled at Mystic during the prison visitation. He wondered if he would ever get Sidney back in his arms.
That was only one of his troubles.
Vondra was posed to cause him some serious issues if she didn't calm down in the mental hospital. He estimated locking her away at the North Florida Mental Hospital was a great temporary solution to his troubles, but he could tell that something wasn't working correctly. Vondra called him daily, nonstop.
Vera called him just as often as Vondra. Mystic ignored her incessant calls. He blocked the hospital number from his cell phone and told himself that he would deal with it when he was ready. Mystic couldn't tell his aunt about the issue because he really didn't want to speak with anyone at the hospital. So, he ignored every call that came through his phone, unless it came from his office.
Mystic wanted to just bury Vondra at the hospital and walk away, forever. He begged his aunt for help, and Vera quickly jumped into action. He considered contacting Vera to tell her that Vondra had somehow obtained telephone privileges. That way he could stop the incessant phone calls. She left him messages, over 100 per day. Mystic simply deleted the messages he received from the hospital.
He no longer cared.
Now that he was the Chief of Police he had real things to worry about. He didn't have time to chase behind his wife to make sure that she was taking her medication and abiding by the law. It was too tiring for Mystic.
The two women in his life were both driving him crazy.
( Continued… )
© 2019 All rights reserved. Miami Beat III book excerpt reprinted by permission of the author, Frederica Paremore Burden. Do not reproduce, copy or use without the author's written permission. This excerpt is used for promotional purposes only.


---

Intimate Conversation with Frederica Paremore Burden
Frederica Paremore Burden graduated from Barry University with a Bachelors Degree in Nursing, and Masters Degree in Criminal Justice from St. Thomas University. She worked as a City of Miami Police Officer for 28 years, and retired as a Sergeant in 2017. She worked in various units throughout the department, including undercover details, as well as being a calendar model to raise funds for the PAL unit for the Police Department.
Frederica is an Adjunct Professor for the School of Criminal Justice at Miami Dade College and enjoys engaging with the young adults that she teaches and helps to guide them in molding their futures. She has three (3) sons of her own, her oldest has followed in her footsteps and is now a Law Enforcement Officer while her younger twins are in the midst of going away to college this year.
Her debut novel, Miami Beat: The Secret Society was published in the Spring of 2018, followed by the sequel, Miami Beat II: Dilemmas which was published in the fall of 2018. Miami Beat III: Illusions is the final suspense novel in the trilogy series, but this is not the last of Frederica Paremore Burden.
BPM: Please, share something our readers wouldn't know about you.
FPB: I have a serious addiction to Bike Spinning classes.

BPM: If you had to describe yourself in three words, what would they be?
FPB: Red wine lover.

BPM: Introduce us to your most recent work. Available on Nook and Kindle?
FPB: My most recent work is Miami Beat III: Illusions. This ties everything together in the last novel of the trilogy. You will see dreams turn into happy realities, and dreams that truly become nightmares.

BPM: Can you share with us something about the book that isn't in the blurb?
FPB: Because of jail, the house of cards tumble in an unexpected way. Relationships may be broken but is that for good?

BPM: Readers can hear excerpts from all of the books by clicking below.

Miami Beat: The Secret Society by Frederica P. Burden
Listen to a chilling audio excerpt from Miami Beat: http://www.audioacrobat.com/note/CTgGTxsX
Miami Beat II: Dilemmas by Frederica P. Burden
Listen to a dramatic reading from Miami Beat II: Dilemmas: https://www.audioacrobat.com/note/CCmvBHQX
Miami Beat III: Illusions by Frederica P. Burden
Listen to a dramatic reading from Miami Beat III: Illusions: http://www.audioacrobat.com/note/CwmNTyfX

BPM: Give us some insight into your main characters from Miami Beat III: Illusions.
FPB: Sidney is a strong young woman who takes the weight of her family on her shoulders, especially since the untimely death of her father occurred. Mystic is in love with one woman but is married to another, will he lose the love and stay married? He has a lot to lose either way.
Garcia is playing a game that he may not be able to win, but will his loyalty lasts for his lover? Spencer is Sidney's bestie and he really puts that to the test. He has always been there for her in her time of need, but the real test will be, will she reciprocate this for him?
Vondra loves her husband Mystic but knows that he love Sidney, will she remedy this situation on her own, or will she just move on? She has left a trail of disappointments behind everywhere she has gone so why would this time be any different?

BPM: Where do your book ideas come from? Are your books plot-driven or character-driven?
FPB: All of my books are plot driven with strong, sensual characters. My ideas come from my wild imagination and from some things that I was able to see during my 28 years of working in various communities while being a Law Enforcement Officer, and the books are both plot and character driven. The reader would definitely pick that up.

BPM: What's so unique about the Miami Beat Trilogy storyline when it comes to suspense thrillers?
FPB: The uniqueness of the storylines is that each character has real life issues that we all have encountered or know someone that is or has gone through them. The way that they handle their individual problems as you read on, makes them special and unique in the sense that the outcome may not be what we expect, but the issue at hand is challenged and overcome to a degree that the character can function in their day to day activities.

BPM: Were any of the characters personalities fictionalized versions of people from your years on the force?
FPB: Yes, some of the personalities were. When you spend 28 years, 10 hours a day, 4 days a week, not to mention riots, hurricanes and training (15 hour days) with the same people, you learn them to the point where you know what their next move would be, and what their answers to certain questions would be. So when I was creating my characters, some of my coworkers came to mind for sure.

BPM: Does one of the main characters from the Miami Beat Trilogy hold a special place in your heart? 
FPB: There is no one character that holds that spot. I have a small piece of each of them in my heart because I know how each one of them is suffering and how they end up working it out. You really have to step into each characters mind to write for the reader to feel, so they are all special to me.
BPM: Did you learn anything personal from writing this particular book, Miami Beat III: Illusions?
FPB: I learned a lot about mental illness, about the LGBTQ society more. I really researched the things that I wrote about that I wasn't too well versed on. I participated in the Gay Pride Parade and just hung out a lot with of the LGBTQ community to learn different things that I needed to relate with Spencer on. I interviewed a few parents of Autistic children to learn how Cero should be and what he would actually relate to. I truly enjoyed developing all of my characters and learning what I needed to know.

BPM: When developing a new book, what comes first, the plot or characters?
FPB: For me, I developed my plot, then place the characters where they needed to be. Then I named them.

BPM: What did you enjoy most about writing and developing the characters for Miami Beat III: Illusions?
FPB: I enjoyed actually creating, learning and living each and everyone of my characters. Choosing which direction I wanted them to go in. Being evil and ad through them.

BPM: Is writing easy for you? Do you feel lonely being a writer during the creative process?
FPB: Writing is very easy for me. This was my refuge growing up. Writing is how I deal with problems to this day. I write down what I want to say to a person if I'm upset with them, and then discard it, and I'm good. I am not a person who hangs out with lots of people so being alone is something that I truly enjoy. I have kids and a very small circle of friends. That is more than enough for me. Any more than that is sheer problems.

BPM: Tell us a little about your creative process. Do you use a computer or write out the story by hand?
FPB: It's funny, I started out writing down things with pen and paper, but I would write so fast, I couldn't read my own writing. Then I became sophisticated and bought a small tape recorder, but the small cassettes got misplaced and that didn't last. A computer is my best friend. I type save and keep it going. I'm not one to wake up in the middle of the night and write down dreams or thoughts. When it hits me, I will write for a week straight or just a weekend. No big process, just when the mood hits, I'm on lockdown.

BPM: When you're writing an emotionally draining scene, how do you get in the mood?
FPB: It's the plot, I already know what I'm going to do, and what direction it's going in so I don't have to sit and make myself sad or sexy…I just write the way I want the story to go and that's it.

BPM: Writing can be an emotionally draining and stressful pursuit. Any tips self-care for creative folks?
FPB: Always have an outlet. I spin on my bike every single day. It relieves all my stress, opens my mind to set it up for bigger and better creativity.

BPM: How do you personally deal with emotional impact of a book as you are writing the story?
FPB: As I said before, I know the direction that I am taking my story so I am already prepared for what is going to happen next, so I'm ready. I just have to make sure the readers are getting the entire impact of each scene in my books. I want them to actually feel like they are there.

BPM: How much planning goes into writing a book in general? How long does it take to complete one of your books?
FPB: It takes me about a month to get the genre together and it takes me six to eight months to write a book and that's because I have it all in my head. I just have to spill it out on paper.

BPM: How much 'world building' takes place before you start writing?
FPB: A months' worth and then it is computer time. Getting everything out of my head and in some type of order to allow me to see the big picture. Then everything comes together.

BPM: Are there under-represented groups or ideas featured in your book? If so, discuss them.
FPB: I touch on different aspects of life. I mentioned the LGBTQ, Mental illnesses, Domestic Violence, Police brutality. Unfortunately, the consequences for the actions of the characters that suffer with these issues are harsh, but I just want to make sure that they are addressed . No one is immune, it can happen to any of us.

BPM: Share one specific point in your book that resonated with your present situation or journey.
FPB: My book is totally fiction. It has not been a part of my journey beside Law Enforcement being involved, but no personal situations were used.

BPM: What were the key challenges you faced when writing this book series?
FPB: My challenge was, where do I stop to pick up in the next book? I didn't want to write too much but I didn't want to write too little. I didn't want to put you to sleep, I wanted you to keep turning those pages sitting in that same position until you were done, closing it and thinking about what was going to happen next.

BPM: Can you share some stories about people you met while researching this book series?
FPB: I can tell you that I researched deeply, and It was eye opening and lots of fun at times. I don't want to expose anyone of my friends that took their time to share people, places and things of value to them, to help me with my success but they know who they are, and I want to thank them all for helping me get the truths out there.

BPM: What does literary success look like to you?
FPB: Writing has always been a way to clear negativity from my mind. It's been a coping method for me since middle school. I have just taken it to the level of sharing what is in my head with readers that enjoy reading suspense novels.
Success to me is seeing my books on bookshelves, and in libraries. Seeing readers walk around with my books in their bags, having my books the subject of many book clubs, possibly being used as ethics books in college. I can share my story to help others succeed, I would love to be that household name. A brand, when you mention Miami Beat, you automatically say, "oh, that's Frederica Burden's trilogy." That's literary success to me.

BPM: What legacy do you hope to leave future generations of readers with your writing?
FPB: I want everyone to know that every book isn't a fairytale, that it's not always a happy ending, and that good guys don't always win. It's real out there!

BPM: What is your preferred method to have readers get in touch with or follow you?
FPB: I'm always on Facebook, and IG, so they can send me messages there, they can go on my webpage and we can chat there, I love to interact with my readers. I love hearing from them and reading their feedback. It gives me fuel for the next book.

BPM: How can readers discover more about you and your work?
FPB: They can reach me on Facebook: Miami Beat: The Secret Society or at any of the sites listed below.

Purchase all of the books written by Frederica Burden
https://www.amazon.com/Frederica-Burden/e/B07KQLRDLP

Let's Link Up on Social Media
Frederica's website: https://www.fredericaburden.com
MB Instagram: https://www.instagram.com/miamibeatbook
Beat of Burden Podcast: https://anchor.fm/BeatOfBurden
Frederica's Instagram: https://www.instagram.com/addevon
Twitter: @FredericaBurden and https://twitter.com/FredericaBurden
Facebook Miami Beat: https://www.facebook.com/booksbyfrederica
Beat of Burden Podcast with Frederica Burden
Listen to the latest shows: https://www.fredericaburden.com/podcast

Miami's best kept secret… no cover fee, always a great crowd. Join celebrity host Frederica Burden and feel the beat Thursdays at 9pm EST!
 
Purchase Books By Frederica Burden in paperback on Amazon and Barnes&Noble.
 
FPB on Barnes & Noble: https://bit.ly/2WOEsYD
Amazon: https://www.amazon.com/Frederica-Burden/e/B07KQLRDLP

Download your copy today!  Available on Nook and Kindle Unlimited eBook format. Suspense Thrillers » Psychological Thriller » Erotic Suspense » Crime Thriller

MIAMI BEAT: A UNISEX FRAGRANCE BY FREDERICA BURDEN
http://www.fredericaburden.com/product/miami-beat-colonge